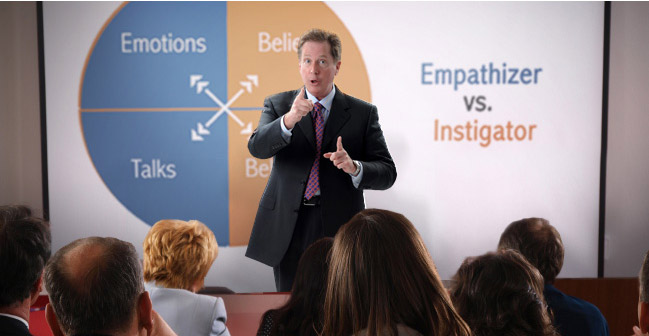 QUESTION:

How Is The TALK2ME© System Different From Other Canned Programs You Are Considering?

ANSWER (From HR Vice President):
For the last week or so, I have been studying and researching the market of "organizational communication training" available to the public. My findings show market saturation in the area of "interpersonal communication education and awareness." There are many companies and consultants that promise to improve organizational communications by utilizing existing published data. Specifically, most, if not all, companies and consultants promise to do the same thing by teaching widely accepted core principles such as:

1. Active listening

2. Clarification

3. Say what you mean; mean what you say

4. Be specific, avoid flowery talk that confuses message

5. Keep message accurate and honest

6. Be aware of non-verbals

7. Understand message from messenger's point of view

8. Know your audience or co-communicator

9. Think before you talk; choose words carefully

10. Know your style as to what you are and are not comfortable with

11. At all times, stay positive, optimistic, and supportive so others see you as "approachable"

Although I believe the above commandments (information) to be 110% true and highly effective, this is not what you offer. Your mission and vision is NOT to improve communication by presenting tweaked published information in the form of workshops and seminars.

What makes YOU different and unique is that you have a product or talk tool technology that is easily applied…a product that provides the answer in the form of a newly discovered, groundbreaking, revolutionary system based on principles of psychology. And you are the developer and presenter of interactive TALK2ME© seminars, where the rubber meets the road.

In order for one to fully understand the significance of this system, I will try to explain, utilizing the following analogy: They say that in order to find a silver bullet vaccine that promises a cure for (let's say) cancer, one must first research as to what causes cancer. Once someone identifies the variable(s) that cause cancer, researchers can then hone in on formulas that prevent or even cure. Dr. O'Grady, you discovered the cause(s) of effective and non-effective communication! We were born with it for heavens sake! From that, you developed a cure!
Unique Features Of TALK2ME©
Not lecture format where not much is applied outside the seminar classroom
High level of group interaction and penetration of information
New proven, innovative, customized programs by the developer of the TALK2ME© system
Works wonders in individualized communication coaching sessions, too
Results are measured and expected
Participants enjoy discussing the differences between Empathizer and Instigator communicators
"I've been enlightened…the light bulb came on…Now I know why things weren't working, and more importantly, what to do to make things better."
Training manuals, textbooks, handouts, newsletters are available for reinforcement of training applications
"Personal touch" to every project
Building Communication Bridges Through The TALK2ME© System
Problems are solved by communicating your change message because TALK2ME© will help your team to…

-Build bridges of trust among all team members
-Provide tools which will promote an increased level of positive and effective communication among team members
-Teach communication methods and skills which can be immediately applied
-Show how personality styles can lead to enhanced job performance

As you know, improved communication leads to proven profitability in multiple areas. When you learn you earn!
About The Co-Presenters
Dr. Dennis O'Grady and Kathryn Johnson bring a unique combination of professional credentials and experiences.
As developer of the TALK2ME© Communication System, Dr. O'Grady has an in-depth understanding of the complexities of communication and a proven system to unravel the mystery. He has extensive experience as a corporate trainer and executive coach. Academically, Dr. O'Grady holds a B.A. and M.A. from Michigan State University and a Psy.D. from Wright State University School of Professional Psychology. He is founder of New Insights Communication.
Kathryn Johnson's background includes executive corporate positions with Fortune 500 companies. Kathryn now owns her own communication consulting practice where she specializes in the administration and individual assessment of the DiSC© Personality Assessment. She has written and delivered custom designed professional development courses for corporate businesses, government, and health care clients.