NICI TALK2ME© ASSESSMENT:
Awareness of your communicator type as either an Instigator or an Empathizer Communicator automatically improves your confidence, reduces friction, and reliably boosts your mood. You will become a more positive person. Statistically, you have about a 50/50 chance of being born an Instigator or an Empathizer. In fact, neither type is better or worse because striving for balance is best. Also, your gender is unrelated to your talk type. Either way, you can't lose because you will acquire the admired traits of your opposite type to become a more flexible and skilled communicator.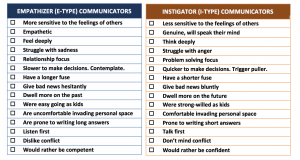 Instructions: Take the New Insights Communication Inventory (NICI) to evaluate if you are an Empathizer Communicator or an Instigator Communicator. Some of your answers depend on the situation. For example, you might act one way at work and one way at home. To obtain accurate results, answer questions honestly through the lens of your personal "at home" self. Select the option that seems most accurate to who you are naturally. There are no right or wrong answers.